MARION is honored to be featured in Sustainable Jungle's Recent Article:
When you've got a bun in the oven, it's very easy for those motherly feelings and emotions to leave you feeling overwhelmed.
Not to add to that overwhelm, but most modern clothing is made with synthetic fabrics, leading to untold amounts of textile waste and possible chemical exposure for you and your little one—making them way more than a baby bump in the road.
Organic maternity clothes—along with pregnancy-safe makeup—ensure a safer, more sustainable countdown to your due date.
After all, you should be staying comfortable, chemical-free, and cozy as possible in the months leading up when your little bundle of joy arrives.
Organic & Natural Maternity Clothes To Bundle Your Bump
Pact minimizes their impact on the planet by using almost exclusively fair trade and organic cotton in their essential range of organic nursing tops and maternity clothes. For pre, during, and post-birth, try a little black organic maternity dress from MARION Maternity and feel comfortable and stylish, all while knowing your purchase helps support female education and empowerment worldwide.
If you're interested, puuuuuuushhh your way to the end of the article to see how we found these belly-friendly organic maternity clothes brands.
The Best Sustainable Maternity Clothes We Could Find
1. Pact
About Pact
Price range: $35–$80 
Pact creates "Earth's Favorite Clothing" for the whole family.
More importantly, they make clothing for the person responsible for expanding the size of that family, including leggings, t-shirts, dresses, undergarments, pajamas, and loungewear.
For an organic maternity robe to relax on days when you get tired just walking to the fridge, Pact's Short Robe is a cozy staple—and one that you can hang on to and wear post-pregnancy, too!
Speaking of post-pregnancy, they also offer a small range of organic nursing clothes that include nursing bras, camisoles, and a Nursing Jumpsuit with hidden snaps for easy nursing. 
Pact's Ethical & Sustainability Practices
Materials:
GOTS-certified organic cotton is the Pact maternity clothes material of choice. 
Many of their garments are 100% organic cotton, but your expanding belly might be pleased to learn that their organic cotton maternity clothes are blended with a touch of elastane for extra stretch.
Supply chain & labor practices:
Around 74% of Pact's organic cotton is sourced in India, where it's also processed in a factory that is certified Fair Trade. 
Pact chooses India (over the USA) because it's an "opportunity to better the global community and make an impact on lives all over".
Carbon commitments & green practices:
Via their SimliZero partnership, they measure the impact of every item so they can offset it, in addition to other practices that reduce water and energy use, 
Pact uses Vela Bags for shipping, which are responsibly made, carbon-neutral, FSC-certified, and completely recyclable paper bags. 
Inclusivity:
Pact maternity clothes run from S-XL (and these run larger than the equivalent sizes in non-maternity clothing). 
As one of the most affordable ethical clothing brands, their eco-friendly maternity clothes are budget and big-belly-friendly. 
Community & charitable giving:
Making fashion as circular as your midsection feels, all Pact orders are sent in a Give Back Box designed to be filled and returned with any gently used clothing of any brand.
Your unwanted clothes are then distributed to one of five local charities.
2. Sézane
About Sézane
Price range: $65–$285
If you think maternity garb means wearing a tent for the final three months, Sézane's cute organic maternity clothes will change your mind.
Take the Cristina Jumper, for example: Made of super soft wool and mohair, its relaxed upper fit is gentle on swelling breasts while the stretchy hem can either completely cover your tummy, or let you show off your bump a bit.
The full range of sustainable maternity clothing includes beautifully cut, styled, and designed one-piece dresses, tops, knitwear, and jackets. 
Sézane's Ethical & Sustainability Practices
Materials:
Sézane has been working tirelessly to increase the proportion of eco-friendly materials used in its collection. Three-quarters are eco-friendly and more than half of the pieces have OEKO-TEX certification or other sustainability certifications.
The majority of maternity pieces are made using GOTS-certified organic cotton, lyocell, RWS-certified wool, or mohair.
Supply chain & labor practices:
Manufacturing sites are chosen according to the availability of raw materials, production capacity, and supplier expertise.
Two-thirds of Sézane's items are made in Europe, while the remaining third is produced at various sites around the world, including China. You can see right on the product page which are EU-made.
Suppliers have to meet Sézane's code of ethics which ensures employees are provided with proper conditions in terms of work, hygiene, safety, and voluntary employment.
Plus, they're putting the B in "baby bump" with their B Corp certification.
Carbon commitments & green practices:
All of Sézane's locations are powered by renewable energy. In twelve months, they have reduced the carbon footprint of a Sézane garment by 22%.
100% of all shipping boxes are made from recycled cardboard or derived from sustainably-managed forests.
Inclusivity:
Sézane's XXS-XXXL range of eco maternity clothes are designed to fit all at any stage of pregnancy—from first bump pop to the last-minute dash to the hospital.
Community & charitable giving:
On the 21st of every month, Sézane donates 10% of total revenue and 100% from a dedicated "solidarity piece" to aid children living in poverty through Baby2Baby.
The same goes for the Women's Cancer Research Fund on the 1st of every month.
3. MARION Maternity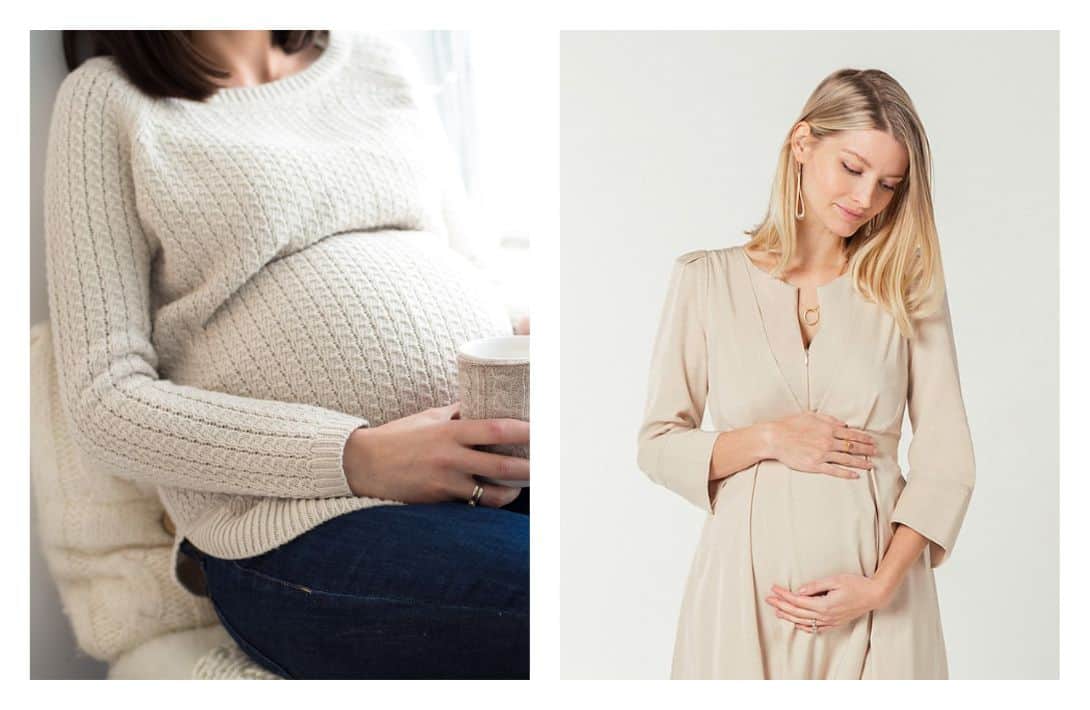 Images by MARION Maternity
About MARION Maternity
Price range: $55–$249
Looking to add some motherhood-wear into your collection of sustainable work clothing? Look no further than MARION Maternity They offer some of the best postpartum clothes and pregnancy clothes alike for the style-conscious working professional.
Versatile in style and function, the Madeline Dress is designed for both maternity and nursing. With super soft TENCEL™ fabric and invisible access for nursing and pumping, you'll stay comfortable through pregnancy and beyond.
In addition to their work clothes collection, you'll also find more casual essentials, like maternity jeans and pajamas.
MARION Maternity's Ethical & Sustainability Practices
Materials:
Most fabrics in MARION's sustainable maternity clothing are natural, recycled, or both. The aim of this maternity clothing brand is for all fabrics to be natural or recycled.
Fabric blends vary, but the natural fabrics include TENCEL™ and organic cotton. You'll also find recycled polyester, bamboo, viscose, elastane, and nylon, but if you're looking for straight organic options, avoid these.
Supply chain & labor practices:
MARION's range of maternity wear is manufactured in Thailand by a sustainability-focused manufacturer. They audit in person annually, and more often if possible.
Carbon commitments & green practices:
Deliveries are made with carbon-neutral shipping and products are shipped in 100% recycled and compostable shipping containers.  They're aiming for zero new plastics in the production chain by 2025. 
Inclusivity: MARION styles run XS-XL or XXL, and they're working to add more extended sizes. For all the shorter mamas, MARION's Petite Collection is designed to flatter moms-to-be under 5' 4". Community & charitable giving: MARION donates a portion of profits to women's healthcare and girls' education worldwide. It's also building a buy-back program to enable lower-income professional women to purchase gently used styles at a discounted rate.
4. Storq
About Storq
Price range: $22–$321
Everyone looks forward to the day the stork comes—but with Storq, you don't have to wait to gush over something soft and cute.
They work hard to keep organic maternity clothes affordable, comfortable, versatile, and useful, for nine months and beyond with sustainable nursing clothes.
Whether you want bottoms, tops, dresses, jumpsuits, intimates, and loungewear, Storq has things covered, from compression socks for your swollen feet to postpartum recovery briefs.
Storq's Ethical & Sustainability Practices
Materials:
Their most sustainable materials are organic cotton and recycled polyester—blended in the likes of the Foundation Sweatshirt.
The majority, however, are made of either 92% modal fabric and 8% spandex, or 85% conventional cotton and 5% spandex.
Though all fabrics are OEKO-TEX certified as free of AZO dyes, formaldehyde, phthalates, and other harmful chemicals, we recommend avoiding select styles with virgin polyester or rayon.
Supply chain & labor practices:
Storq uses a variety of countries for production, including China, Peru, the Philippines, Portugal, and the US. You can see which in each product description.
When choosing partners, a premium is placed on compliance with worker safety, fair wages, and commitment to minimizing environmental impact.
All primary manufacturers are audited annually by an independent third party.
Carbon commitments & green practices:
Clothing is produced in limited quantities to ensure minimal waste. 
Packaging is kept to a minimum and products are shipped in EcoEnclose 100% recycled and reusable poly mailers. Garment labels are avoided in favor of heat transfer labels whenever possible.
Inclusivity:
From XS maternity clothing to 4X styles, Storq's clothing fits most, and they're working on expanding its size range as the company grows. 
Community & charitable giving:
Storq has partnered with the Homeless Prenatal Program in San Francisco and Alternatives For Girls in Detroit to donate pre-loved Storq clothing to women and mothers in need.
About Christy Dawn
Price range: $99–$378
LA-based Christy Dawn provides organic boho maternity clothes that will make you feel like the feminine goddess you are as you grow that tiny human inside your belly.
They may be one of our favorite zero waste fashion brands for their use of deadstock fabric, but their regenerative organic cotton maternity clothes are just as stunning and sustainable.
With organic maternity dresses, blouses, and coats, the loose and flowy fits are adjustable and extremely friendly to baby bumps and for nursing mothers.
For something floral to signify the new life blooming inside you, check out the Katrina Dress—complete with adorable puffed sleeves and a billowing skirt.
Christy Dawn's Ethical & Sustainability Practices
Materials:
Christy Dawn's pregnant boho style comes to you courtesy of their own Farm-to-Closet regeneratively farmed organic cotton.
Some styles are made of 100% upcycled fabric sourced as dead stock from other garment factories.
Supply chain & labor practices:
They operate a factory in Los Angeles—making them one of the best USA organic maternity clothing brands—which is also where a lot of the deadstock fabric comes from (a win-win for small supply chains). 
Only their organic cotton isn't domestic, as it's sourced via India's regenerative agriculture Oshadi Collective.
Christy Dawn makers earn more than three times as much as an average garment maker. 
Carbon commitments & green practices:
Christy Dawn's regenerative organic cotton is already climate positive and continues to help restore the soil with every dress made. 
You can support this "farm-to-closet" initiative by purchasing one of their regenerative plots. Each year, you'll receive the proceeds of its harvest in Christy Dawn credit.
Inclusivity:
The standard size range includes XS to XXL, though they also have a Petites Collection and an Extended Sizing collection for bigger-than-average bumps. 
Community & charitable giving:
Partnerships with local grassroots initiatives and fundraisers allow Christy Dawn to give back to their LA community.
6. Warp + Weft
About Warp + Weft
Price range: $88–$98
Welcome to Warp + Weft, "the world's cleanest vertically integrated denim company". 
The family-owned sustainable jeans brand has been in the denim business for more than 30 years and boasts one of the world's largest eco-friendly textile factories. 
They may only be able to provide one type of garment for your organic fabric maternity clothes wardrobe, but the power of a good pair of maternity jeans is not to be underestimated.
Besides, they still give you plenty of options in color and the cut of your sustainable maternity jeans. They also have maternity bibs (overalls)!
Warp + Weft's Ethical & Sustainability Practices
Materials:
Warp + Weft's jeans are mostly BCI cotton (some of which is organic, but not all) blended with minimal polyester and elastane/spandex. Some are made of cotton, Promodal, polyester, and elastane.
20% of these fabrics are recycled cotton or recycled synthetics.
Wearers also get that well-loved denim look without the use of chemicals or harsh dyes. 
Supply chain & labor practices:
Warp + Weft is committed to ethical manufacturing practices that include reasonable hours, fair wages, and positive working conditions. 
Their entire supply chain (farms, mills, and factory) are located in Pakistan. As a tick in the box for transparency, you can take a look inside their factory on their website. 
Carbon commitments & green practices:
Warp + Weft recycles 98% of the water they use through vertically integrated dyeing and washing processes, have solar panels on the roof of their factory, and use Dry Ozone technology as an alternative to chemical bleach.
Inclusivity:
Inclusivity is where this brand stands out. Their jeans represent 75 different sizes, shapes, and heights.
While they aren't just for plus-sized or pregnant people, they are one of the best sustainable plus-size clothing brands.
Community & charitable giving:
At checkout, you can select the option to donate $3 toward clean water projects in Malawi or provide meal support to people in need through organizations like No Kid Hungry. 
Warp + Weft matches every donation made.
7. Frugi
About Frugi
Price range: £39–£66
Frugi means 'Fruits of the Earth' in Latin, which demonstrates the company's commitment to natural and sustainable organic materials.
This sustainable maternity clothes UK brand started with a eureka moment (and no, not the pregnancy test kind).
Rather the kind that came when founders Lucy and Kurt struggled to find clothing to fit over their son's reusable eco-friendly diapers. 
Now providing garments for babies and mums alike, their organic cotton maternity clothing is designed for fashion and functionality—embodied by the ever-popular Mira Maternity & Nursing Jumpsuit.
Whether you're after dresses, tops, jumpers, bottoms, loungewear, outerwear, activewear, or organic cotton nursing clothes, Frugi's got you covered.
Frugi's Ethical & Sustainability Practices
Materials:
Most Frugi garments are 100% Soil Association and GOTS-certified organic cotton. 
Some contain a little elastane and/or recycled polyester from plastic water bottles.
Supply chain & labor practices:
Frugi is headquartered in Cornwall, UK where more than 80 people work. In 2020, they were awarded two Queen's Awards for outstanding achievements in Sustainable Development and International Trade.
Frugi also works with factories in India, Portugal, Turkey, and China, all of which must adhere to their code of conduct, which prohibits child labor and protects workers against abuse and exploitation.
Inclusivity:
Frugi's ethical, organic maternity clothes fit sizes 8 to 18 (US sizes 4-14).
Community & charitable giving:
Frugi has given more than £720,000 to charity organizations. Every year they donate 1% of their turnover, even if they don't make a profit.
Their recent Little Clothes Big Change charity project supported children from around the globe via three major children's charities.
---
Did You Know We Have A Newsletter?
We cover the latest in sustainable living, fashion, zero waste, beauty, travel, finance and more…
Why Buy Organic Maternity & Nursing Clothes?
Expectant mothers go through many changes during pregnancy, including physical, emotional, and hormonal changes. 
One change that often gets overlooked is the need to adapt their wardrobe to accommodate their growing baby bump. 
As pregnant women's bodies change, they require comfortable and functional clothing that supports their changing shape. 
But what about the safety of the clothing that they wear?
Conventional maternity clothes are often made from fabrics that contain harmful chemicals and toxins, which can have adverse effects on both the mother and the unborn child. We're long past due (date) for something better.
This is where organic maternity wear comes in.
How We Found The Best Organic Maternity Clothes
Sustainable fashion means a lot of things for many different people.
But when you have another human growing inside of you, you want to expose it to safe materials (ideally organic baby products, organic baby toys, etc.) and ensure it will have a habitable planet to grow up in. 
Start motherhood on the right (swollen) foot by considering some of the following when looking for eco-friendly maternity clothes, organic or otherwise.
Materials:
Organic materials were a priority here, so we aimed for mostly organic cotton. But some organic maternity clothes brands use things like FSC-certified TENCEL™ lyocell fabric, modal, and ethical wool. 
Additionally, synthetics are used in moderation (like elastane) or sourced responsibly, like from recycled plastic water bottles or deadstock fabric. 
Supply chain & labor practices:
We all want future generations to grow up in a just and equitable world. That's why we look for organic maternity clothing brands that go the extra mile to ensure their supply chains truly support their workers.
You want your labor to be as natural as possible, and likewise, we don't want any forced or child labor (or other abuses) behind those ethical maternity clothes.
Carbon commitments & green practices:
Making maternity clothes sustainable also means reducing impact outside sustainable materials. 
Many opt for renewable energy or practices that minimize energy, chemical, and water requirements—and use carbon offset programs for that which they can't eliminate. 
Inclusivity:
Size inclusivity is important when you have a growing belly. Still, we want organic maternity wear that not only fits bigger bellies, but bigger bodies before pregnancy. 
We like finding affordable organic maternity clothes, so mothers of all budgets and backgrounds can stay safe through pregnancy.
Community & charitable giving: 
Accepting clothing donations, donating funds themselves, planting trees, partnering with local organizations: there are so many ways these brands are creating a world you want your baby to grow up in.
---
Final Thoughts On Organic Maternity Clothing
Bending over is possibly a struggle, and you might have lost sight of your toes, but shopping for cute organic maternity clothes can be fun and uplifting. 
It can also be one of your first official efforts towards raising a zero waste baby and creating a more sustainable future for your child. 
While shopping for this exciting time in your life is fun in its own right, do what you can to keep a minimalist maternity wardrobe. We know sacrificing style choice for those months ahead might be hard, but consider the lasting impact those organic maternity sweats will have once your nine months are up.
For that reason, looking for secondhand maternity clothing at an online thrift store. Buying sustainable recycled maternity clothes is the best way to join Mother Earth in the eco moms club.
When you're sharing stories with the moms-to-be at your next antenatal clinic, be sure to share this post on organic maternity clothes brands with them, too.
Pin These: