Don't Sweat Your Summer Maternity Work Wardrobe
When temperatures rise during summer months, pregnancy starts to get even sweatier, especially at the office. And as delicious as holding shareholder meetings in a pair of linen shorts (or nothing but your favorite cotton undies) may sound, most corporate dress code sticklers would frown on such a generous interpretation of the term "business casual."  Because many formal workplaces like law offices and government buildings remain rigid about workwear expectations, you'll need professional maternity clothes for summer that will help you survive both the season's heat and your body's constant changes. Summer maternity office wear needs to offer breathability, versatility, and ease of movement. With this in mind, we've gathered up some of the best maternity work styles for summer comfort (and polish), including pencil skirts, short-sleeved and sleeveless dresses, loose-fitting tops, and flowy office styles. We give extra points to styles made with cool-touch, breathable fabrics such as TENCEL, and materials that can be washed at home in case of sweat stains (eew, sorry, we know). 
Maternity Pencil Skirts
(Made from Washable Italian Designer Suiting Fabric)
Maternity pencil skirts are a fantastic foundation for any pregnancy work outfit. They pair well with almost any top, creating an effortlessly sleek, professional look. Opt for stretchy and adjustable waistbands to accommodate your growing bump. While suiting fabrics aren't always the most breathable, the lack of pant legs easily makes up the difference in airflow. And if the temperature gets truly out of hand, who would fault you for holding a portable fan between your knees in the privacy of your office? Keep the airflow going by pairing your maternity pencil skirts with lightweight and forgiving blouses. Voila, office-ready!
Sleeveless or Short Sleeved Maternity Dresses
During the summer, short-sleeved and sleeveless dresses become essential maternity workwear items. Just layer a jacket over your dress during more formal moments, then promptly discard it on the back of your office chair. Seek out styles with empire waists or A-line silhouettes that provide ample room for your baby bump. Dresses with pleating or gathering at the sides provide comfort and room for growth, while looking tailored and thoughtfully designed. If you don't need a maternity suiting look, choose dresses made from breathable fabrics like TENCEL or organic cotton, which allow air to circulate and prevent overheating. If you do need a suiting style, go for something washable so you don't end up living at your dry cleaners. 
(With Hidden Nursing Zippers, Washable)
Loose-Fitting Pregnancy Tops
In hotter months, looser-fitting maternity blouses are must-haves for work. Look for flattering tops with empire waists, flowy button down blouses, and tunics that allow freedom of movement and ventilation. Lightweight fabrics such as linen or TENCEL are excellent choices, as linen breathes beautifully and TENCEL maintains a mysteriously "cool touch," seemingly no matter the weather. Opting for looser-fitting tops with open necklines or v-necks can also provide relief from the heat. These styles not only keep you cool, but also offer a relaxed and effortless look that is perfect for summer.
(Made from washable 100% TENCEL)
Flowy Skirts and Empire Waist Maternity Dresses
Flowy skirts and dresses are summer workwear essentials. Maxi skirts are a great business casual option because they're incredibly forgiving and pair with almost anything. If you need more formal workwear, choose tailored dresses with flowy skirts.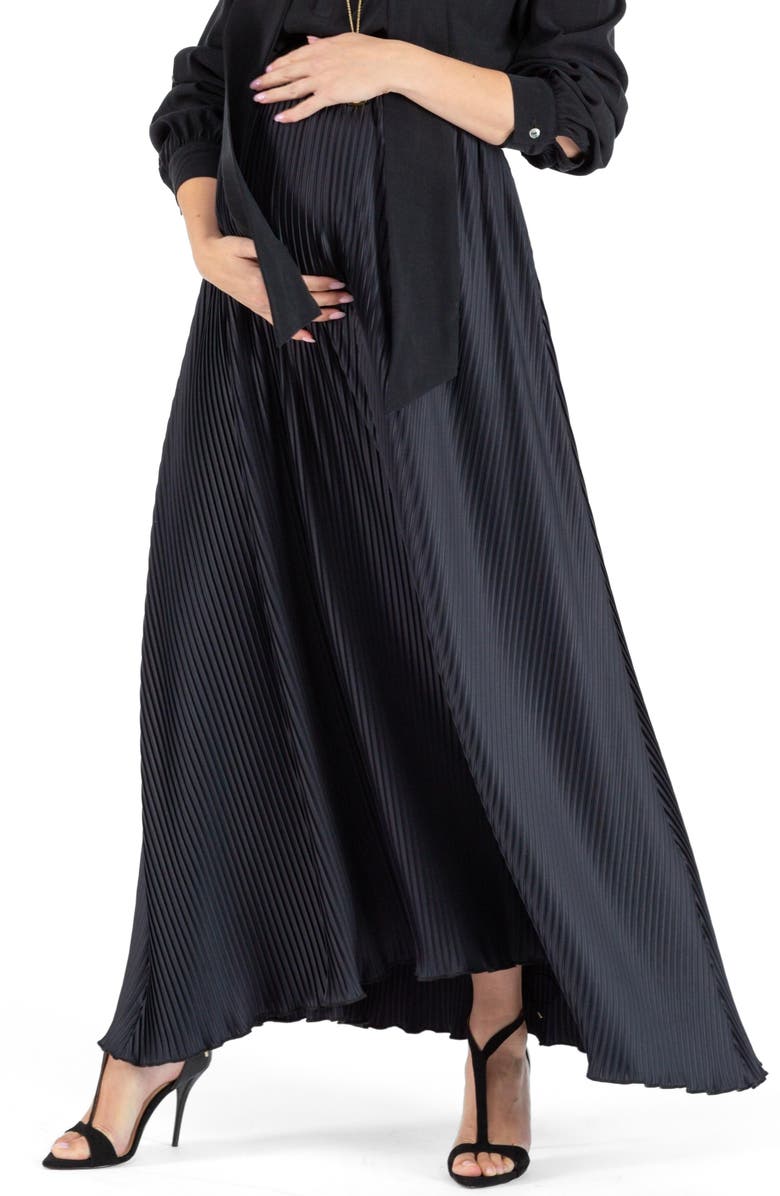 The right empire waist maternity dress offers the best of both worlds: a flattering, tailored look on top with a loose, breezy skirt on the bottom. It's like a mullet, but so so much better. Look for pieces made from lightweight and breathable fabrics, which drape gracefully and allow air to circulate. Flowy maternity skirts can be paired with simple blouses for a timeless office look; flowy dresses can be worn alone or under an open-front blazer as the situation demands. Both gorgeous choices will keep you feeling cool and confident in any professional setting.
(Made from Washable Italian Designer Suiting Fabric)
Styles with Built-In Nursing Access
If you're a nursing mama, finding maternity workwear that facilitates breastfeeding and pumping is crucial. Many brands now offer styles with built-in nursing access, eliminating the need to brave additional nursing covers or capes in the heat. Look for nursing friendly dresses or tops with discreetly placed zippers, buttons, or wrap designs that allow quick, convenient boob access. The best maternity clothes combine functionality with fashion, enabling you to breastfeed comfortably while continuing to look like a boss. Look for styles that feature hidden panels or layers for privacy and discretion. A well designed maternity-to-nursing summer style should allow your to nurse your baby (or pump) with confidence, ease, and as little perspiration as possible. 
(Made from Washable Italian Designer Suiting Fabric)
Styles With Cool-Touch, Breathable Fabrics
TENCEL, a fabric made from sustainably sourced wood pulp, offers several benefits for pregnant women who have to get dressed for work in the summer. Its natural properties make it highly breathable and moisture-wicking, allowing for enhanced airflow and sweat absorption. TENCEL's smooth and cool-touch feel provides exceptional comfort, which means its basically made for summer maternity work clothes. This fabric is gentle on your skin and reduces the risk of the irritation or rashes common to pregnancy. Even better, TENCEL is eco-friendly, as its production process minimizes waste and utilizes renewable resources, aligning with the values of many expectant mothers who care deeply about the health of the planet they'll be leaving their little ones someday. When you're choosing maternity clothes for summer, look for garments made from TENCEL for optimal comfort and sustainability. Other breathable, summer-friendly fabrics you can feel good about include organic cotton, linen, and hemp. 
Go For Washable Maternity Summer Style 
It's real - most of us sweat a whole lot more during pregnancy than we do in our civilian lives. This makes it especially important to choose wash-at-home maternity clothes, especially during the summer. Your clothes are going to need frequent laundering, so make it as easy as possible. You have enough to balance right now. Pro Tip: choose high quality fabrics that can withstand lots of washing without losing their shape or color. Maternity clothes made from machine-washable materials like cotton, TENCEL, and synthetic blends are ideal for the summer season. Make sure you look and smell great this summer, mama.
Summer maternity work clothes are a necessary part of a pregnant professional's life and, with some smart shopping, they don't need to be the bane of your existence. Prioritize comfort, style, and functionality. Pencil skirts, short-sleeved and sleeveless dresses, looser-fitting styles, flowy skirts, and empire waist dresses provide a range of options that are made to adapt to your growing belly and ever-changing body. If you're a nursing mama, choosing styles with built-in nursing access to eliminates the need for layering on sweaty nursing covers (and it's one less thing to bring in that overflowing bag). Cool-touch, breathable fabrics like TENCEL offer greater comfort and eco-friendliness, while washable garments are a huge time and cost saver. By prioritizing these factors, you can stay cool, confident, and more-glowy-than-sweaty throughout your summer pregnancy. 
What are your style tips for summer maternity work clothes? We want to hear your thoughts below! 
_______________________________________________________________________
Author Bio: Joy O'Renick is mama to 3 amazing sons and wife to an "adorable Pixar dad". She gets to live on a mini farm in Oregon where she and her family grow food and host board game nights. Joy is a longtime teacher, principal, and education executive. In 2022, she launched MARION out of a desire to empower working moms and limit pregnancy discrimination in the professional world. Joy is a frequent contributing author at Motherly. Joy is a founding member of a Bailamos, a Latin Dance nonprofit, a member of the Emerge Oregon Board of Directors, and a former foster parent and mentor for Big Brothers, Big Sisters. She holds a B.A. in English Literature and a Master's Degree in Education & Educational Leadership.